What is the #1 way to up a hotel's reputation, you ask? The answer is, good housekeeping!
According to a recent survey by hotel booking site Trivago, cleanliness is the top consideration for guests who book hotels based on popular online reviews. 71% of them expect "above average" cleanliness ratings when choosing a hotel. Dust-free surfaces, shining floors, clean toilets and fresh linen – good housekeeping sets the tone for quality while showing guests that you care for their needs and wellbeing.

However, cleanliness goes beyond a strong housekeeping team. Meeting customer expectations, especially during peak season and on high-volume days can be a daunting task. From cleaning rooms of stayover guests to making rooms sparkling-clean for new check-ins, housekeeping teams need to make sure they deliver the best quality in record time.
Want to know how housekeepers in Malaysia are keeping up with the 28% increase in hotel rooms to service? Here are their best-kept secrets – multi-purpose cleaning products that are effective and save time. Scroll ahead to know more.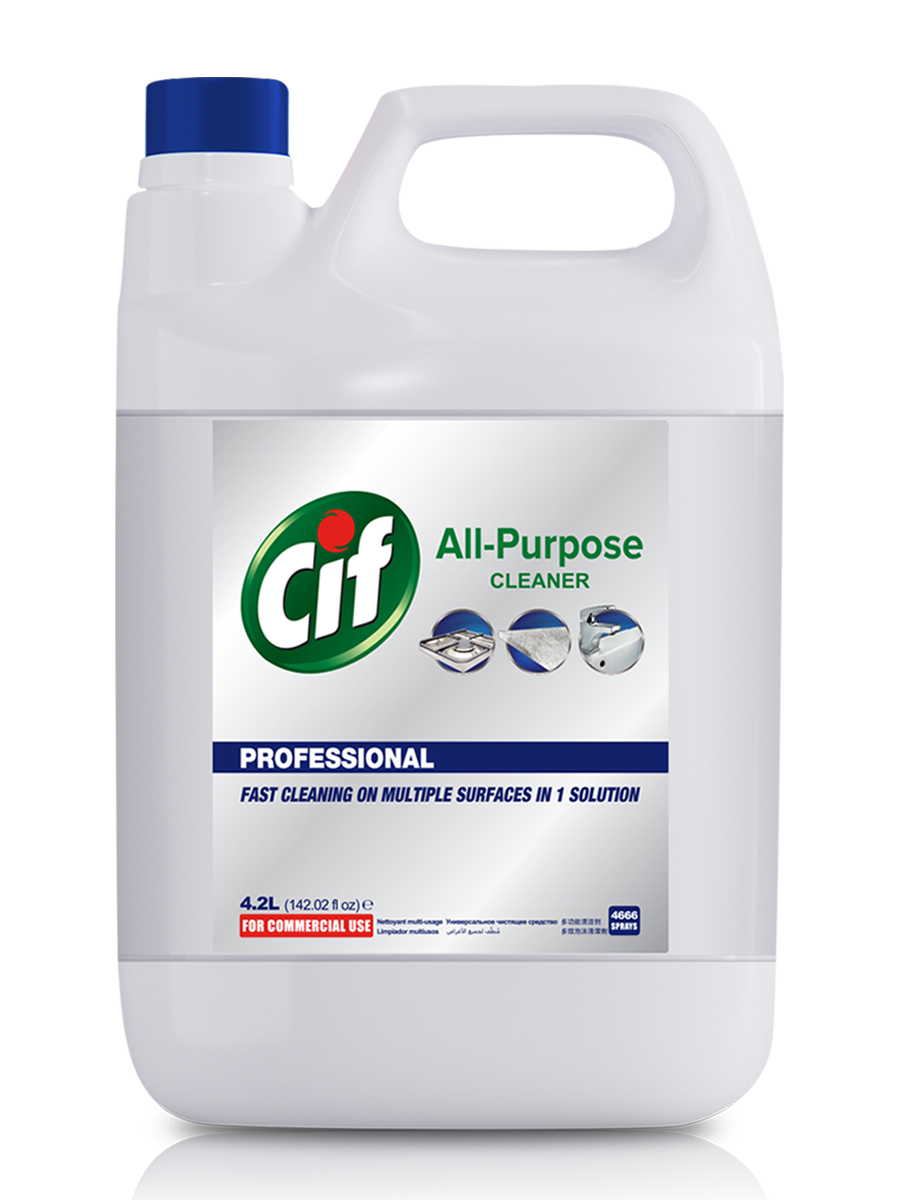 Cif Professional All-Purpose Cleaner: For Fast Cleaning Multi Surface Solution (Anti-Bacterial)
Suitable for all types of water-resistant surfaces, Cif Professional All-Purpose Cleaner effectively fights a variety of stains like grease, grime, soap scum and food soil. Its neutral pH-formulation gives a streak-free finish and a brilliant shine to all hard surfaces.
Breeze Professional Laundry Liquid: For Optimal Stain Removal With No Residue
The Breeze Professional Laundry Liquid fully penetrates fabrics and dissolves completely to leave a spotless finish. Its tri-active cleaning formula aids in removing stains without extensive soaking. It also contains optical brighteners to whiten whites and brighten colors.
Domestos Toilet & Bathroom Bleach – Classic Original: The Solution to Every Bathroom Cleaning Need
Toilet rim, floors, tiles or sink, Domestos Toilet & Bathroom Bleach – Classic Original is suitable for all kinds of bathroom surfaces. It has an ultra-thick bleach formula that clings on to the surface to prolong reaction time and eliminates all known germs leaving the surface clean and germ-free. It effectively cleans limescale, grime and mildew stains, leaving behind a squeaky clean, hygienic washroom that is sure to meet every cleaning standard.
Cif Professional Multi-Purpose Anti-Bacterial Wipes: The Handy, One-Swipe Cleaner
Be it tabletops, sinks or showers, Cif Professional Multi-Purpose Anti-Bacterial Wipes are the solution to effective, time-crunch cleaning. These are specially designed with a strong honeycomb weave to soften, detach and lift dirt quickly on virtually all surfaces. In just one wipe, it cleans and disinfects to fight tough dirt and grease, and effectively eliminate bacteria like Salmonella, E.Coli & Listeria and flu viruses (H1N1).
Want to increase the efficiency of your house-keeping department? The Unilever Professional Standard of Cleaning Program provides its partner hotels assessment on cleaning operations and processes, identifies pain points and provides customised solutions for it.